High voltage Slip Ring Motor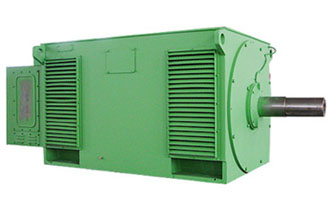 Description

Medium Size 3 Phase AR High Voltage Motor, Slip ring High Voltage Motor, High Voltage AC Motor, HV Motor, slip ring motor is used to drive Windlass, Press machinery, Crusher, Stock-removing, drawbenchs and other general-purpose machinery. They can serve as the prime movers in steel, mines, mechanical industries, blower, compressor, transportation, building materials industry, etc field. The motor has such advantage as high efficiency, energy-saving, low Noise, low vibration, high start torque, low start current, light weight and reliable performance. They are easy for installation and maintenance.Comparison of different series High Voltage motors
General
AR large-sized three-phase aSynchronous motor (center height 710-1000mm) is the latest products of 90's in our company, its power degree, installation size and electric performance complies with requirements in the standard IEC, "Quotation and Performance of Rotating Electric Machine" GB 755 and "Basic Technique Conditions for Large-sized Three-phase ASynchronous motor" GB/13957-95. This serial products can substitute the old products designed within "Technique Conditions for large-sized three-phase aSynchronous motor" JB2223-77 and increase the capacity equal to 10kV motor.
This new serial motor is compact in structure, high in efficiency, excellent in insulation performance and easy in installation and maintenance, rated frequency is 50HZ, F class insulation. The type of installation is horizontal with foot (IMB3), S1 continues in work type, 6000V or 10000V rated voltage.

Construction

Motor is box-type, light in weight, good in rigidity and easy in installation, maintenance and repairing. Series Y,YR motor is basic series, the protection degree is IP23 or IP44 . After dismounting the protecting shield or cover plate, meanwhile, mounting the different top shield or cover plate on the top or one side of frame, it can service as series AR motor, and divert into other series. The motor stator adopts with the core package within coil treated by vacuum pressure impregnation or integrate impregnation in order to make a excellent insulation performance and anti-moist function. The rotor is welded with rib, the rotor winding of series Y motor is made of copper strip, the rotor winding of series YR motor is made of insulation material in class F to wrap the copper bar.The bearing is slipping bearing, IP54 lubrication grease. The protection degree of terminal box is IP54, the wire inlet hole is kept below.

Application

The AR motor is suitable for various commonly used machine such as : compressor, water pump, breaker, stock-removing machine and transport plane.The special-purpose motor should be contacted with manufactory before ordering such as: transmission, blowing machine, coal grinding machine, hoist engine and rolling mill. It is necessary to reach a technical agreements in adopting special design for ensuring on the reliable running of electric machine .

Data sheet (6000V/6600V)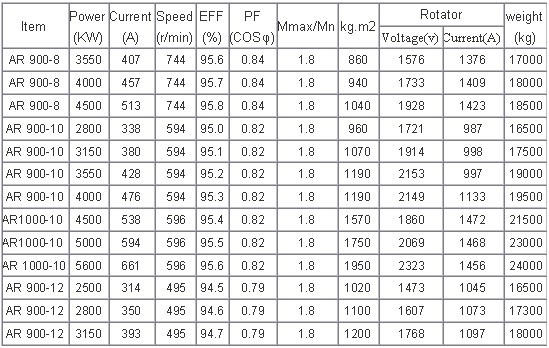 Data sheet (10000V/11000V)