Household BLDC Fan Motor
Performance feature: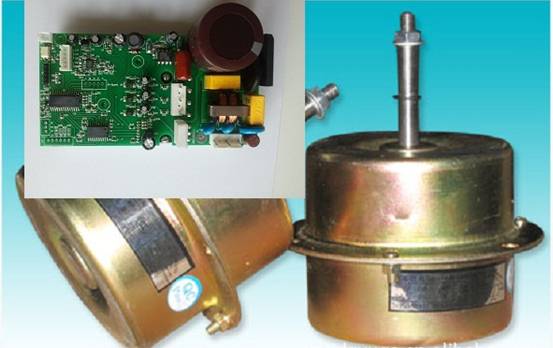 High efficiency: the efficiency can reach 90% or more, compare with the common motor, can saving 50% energy. Nowadays reduce the energy consumption has increasingly become the goal to the each appliance makers. With the development of society, I believe the high efficiency brushless DC motor will become the mainstream in the field of the electrical appliance.
Customer easy to use: the motor have the electric control board, which can convert the ordinary AC power to DC power, and then pass into the motor. The motor speed via PWM or 1-5V voltage potentiometer to control. The design to customers is a big convenience.
Low noisy: the motor is using for sinusoidal magnetic circular design, the noise greatly reduced;
The user can independence control the noisy: the brushless DC motor can step less speed regulation in the 200-2000RPM, user can select the speed easily. In fact, the user can self-control hood wind noise, and the normal motor usually only 3 files to choose, and the most low-grade generally not less than 700RPM, which lead to the common electric motor appliances not noise reduction.
Intelligent control: because the motor is the microcomputer control motor, it can add function according to customers' request.
Rated Voltage:220V/110V AC 50Hz/60Hz
Motor Voltage:24V/48V DC
Power Range:10W—150W
Speed Range:200RPM—2000RPM
This motor can be widely used in the household exhaust fans, air conditioners, range hoods, washing machine and other appliances.