Out Rotor Geared Motor WJ28-30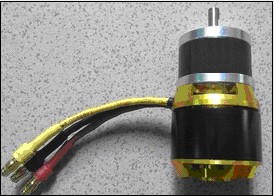 Characteristic:

1.Use the high-efficiency 0.2mm thick Silicon rigid panels;
2. Planetary reduction gear and chassis are made of heat treatment high quality steel which can greatly improve the wear resistance.
3.The quality enameled wire is use to improved insulation and heat resistance.
4. KV value and motor size can be made to order to adapt more configuration.
5. For easy installation, reducer hole pitch and motor mounting hole spacing are all 16mm,19mm(M3).

Technical Data:
| | | | |
| --- | --- | --- | --- |
| Product Type: | BLDC Motor | Model: | WJ28-30 |
| Efficiency: | 90(%) | Rated Power: | 250(W) |
| Rated Voltage: | 7-11(V) | Rated Current: | 38(A) |
| Rated Speed: | 1150KV(rpm) | Dimensions: | 28*57.7(mm) |
| Scope: | RC Airplane and Glider | Certification: | HLY |
| | | | | | | | | |
| --- | --- | --- | --- | --- | --- | --- | --- | --- |
| Model | Length(mm) | Rated Voltage(V) | Max Current (A) | Max Power(W) | Prop/recom | Reduction Ratio | Shaft Size(mm) | Weight(g) |
| WJ2830 KV1150 | 47.2 | 7月11日 | 38 | 300 | 10*6,11*5.5,12*6 | 3.57:1 | φ4 | 93 |
| WJ2830 KV1040 | 47.2 | 7月11日 | 34 | 300 | 11*5.5,12*6,13*6.5 | 3.57:1 | φ4 | 93 |


KV value and motor size can make to order

Dimention Diagram: