SDMK Series Mining Grinding Machine with Three Synchronous motor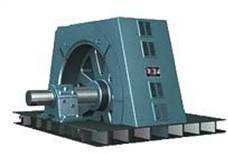 General Description:


This series motors to no more than 1000m in altitude, cooling medium temperature does not exceed 40 ° c, little dust, no steam, acid and alkali, etc
Corrosive gas of the indoor environment. This series motors for 6000V rated voltage, can also according to customer requirements and provide 3000V,10000V. Allow the voltage range of deviation of ± 5%, rated power frequency for rated power factor for isolator, 0.9 (advanced). A cylindrical shaft motor, the direction of rotation stretch in accordance with the provisions shall sign by rotating direction of rotation direction, pediatrias delboni auriemo depends General counterclockwise, also can be made according to the requirement clockwise. Motor and grinding machine with coupling, motor shaft stretched on the unbearable The radial force or axial force.
This series motor excitation system using thyristor excitation device.Allow the voltage directly starting motor. If users are not allowed to the grid voltage directly, also can use starting, step-down start Motivation is proportional to the input and starting current, voltage and starting torque and is proportional to the lower.The stator lead wire: there are six qualification, respectively, V1, W1 U1 with U2, V2, and W2, adopts high voltage cables in base. The derivation of outlet clip, also can according to requirement. Junctions made
The type of oil bearing: using composite bearing, the seat of bearing or bearing installed at the bottom insulation between cushion pad, in order to prevent the axis current production.

Application:

SDMK series applicable to drive with mine mill large ac three-phase Synchronous motor. The main transmission grate ball mill,Bar mill, coal pulverizer etc.

Technical Data: