D2 sereis DC motor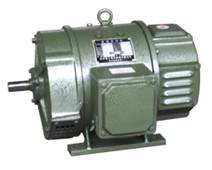 Series D2 DC machine is used for industry. It's suitable for electric power drag which timing range of constant power is not more than 1:2, over-loading capacity is not more than 1.5 rated torque. It also can be used for metal cutting machine tool, paper making, print, textile, cement-making, etc. Generator can be used for motive supply, illumination or other constant voltage supply. Booster generator is also suitable for charge and floating charge of large storage battery.
In order to adapt to adjusting voltage & speed in wide range when constant torque and accurate speed control, D2 series has developed derive structure of strong wind and it's detector, which electrical specification is wholly the same with D2. But when D2machine is equipped with ride style fan or double fan and speed indicating generator, it has compact structure and can run at a low speed for a long time, to make the use of wide range of adjustable-speed, accurate speed control. To meet the requirement of timing when constant torque, D2 series electrical machine can be made to independent excitation generator with all kinds of excitation voltage to easily speed adjustment. According to different excitation power source, excitation voltage can be 110V, 220V, also can be other suitable voltage.
Furthermore, D2 series can be adapted to other special demand, and in order to meet other special requirements. D2 series derive some other specification:
1. DT2 wide range of adjustable-speed motor: the range of adjust magnetism and speed when the motor is running at the constant power is 1:3 and 1:4. It is convenient for power supplying to constant voltage network which needs wide range of speed adjustment. To reduce the draught loss when running at a high speed, DT2 which frame size is more than 7 commonlly adapt strong ventaging.
2. DT2 special voltage motor: motor which rated voltage is 180V, 340V and 440V are suitable for 1-phase and 3-phase controlled silicon electrical source supply, motor which rated voltage is 275V and 460V can be use for mine traction drive power source and other situation which need special voltage & power source.
3. ZO2 enclosed type motor: fully-enclosed, suitable for special, dustproof working environment.
4. According to special needs, D2 series can also derive with compensate winding motor and generator. At this time, the overload times can be increased to about 2.5 times of rated torque, and the time of constant armature loop can be reduced, it's suitable for the situation which is large power servosystem or needs large overload torque. Presently, No.8-11 frame have a part of specifications, if needed, can be developed.
Above mentioned four kinds of special specifications, the overall dimension, moment of inertia and weight are same as D2.

· Performance
electromotor power range:0.4Kw~200Kw
electromotor rated voltage:110V and 220V
electromotor rated running speed):3000r/min, 1500r/min, 1000r/min,
750r/min and 600r/min
electrical machine power range:0.6kW~185kW
electrical machine rated voltage:115V and 230V
electrical machine rated running speed):2850r/min and 1450r/min
On the following conditions, this series motor can be used continuously
(1) Altitude above sea level maximal 1,000m.
(2) Cooling air temperature maximal 40C.
Excluded the above basic voltage, running speed and this catalogue,
if you want other motor of special voltage and running
speed, you can also contact us. For example, high humidity can order
humid torrid zone. The basic excitation type of motor is shunt excitation
with a little series stable winding. The voltage-regulating generator is
compounded excited excitation. (without series winding)
In order to meet different requirements, the series motor can be made to all
kinds of independent excitation motor of different excitation voltage,
also can be made to series and compound excitation motor with different series
or compound percentage. Motor frame D2-1~8 use class B insulation material,
when the cooling air is not above +40C, the temperature rise of winding is 80K
(resistance method). Motor frame 9~11stator use insulation cl
ass B, the winding of rotor use class F, temperature rise of stator winding is 80K
(resistance method) and temperature rise of rotor winding is 100K (resistance method).
If each stator winding of motor frame is monolayer naked conductor, then it'
s temperature rise is 10K higher than it's insulation class.
The motor can use elasticity coupling, spur gear or triangle strap and other
transmission method which have no axial thrust. If the motor is biaxial extension,
motor frame 1-6's biaxial extension both can pass rated moment; but the motor frame
7~11' s commutator shaft extension only can pass rated moment when without radial load.
If it has radial load, it only can pass 50% of the rated torque.
The motor which power range is from 0.4kW to 2kW is allowed to adopt to first
grade starting resistance to start.
For power is more than 2kW, starting machine with multistage starting resistance or
using reducing armature voltage is adopted to step-up starting.
Structure
The basic products of D2 series DC motor adopt drop-preventing, prevent drop, self fan cool,
uniaxial structure. It is suitable for general normal working conditions,
motor also can be made into biaxial.
The basic outlet wire faces to main driving-end (not commutator). Generator outlet wire is at
left and the motor outlet wire is at right. Basic circumrotate is clockwise
when facing to main driving-end. The structure installation of the motor please reference to table 1.
table 1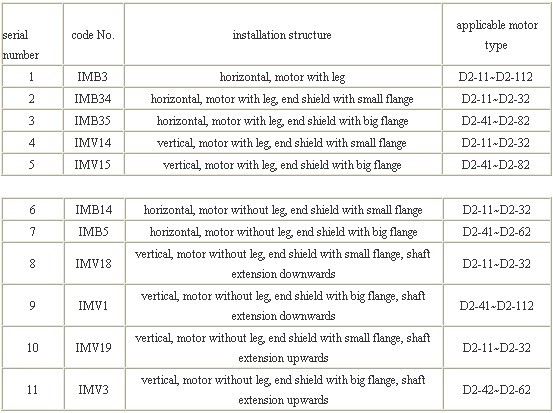 Structure

The basic products of D2 series DC motor adopt drop-preventing, prevent drop,
self fan cool, uniaxial structure. It is suitable for general normal working
conditions, motor also can be made into biaxial.
The basic outlet wire faces to main driving-end (not commutator). Generator
outlet wire is at left and the motor outlet wire is at right. Basic
circumrotate is clockwise when facing to main driving-end. The structure
installation of the motor please reference to table 1.
table 1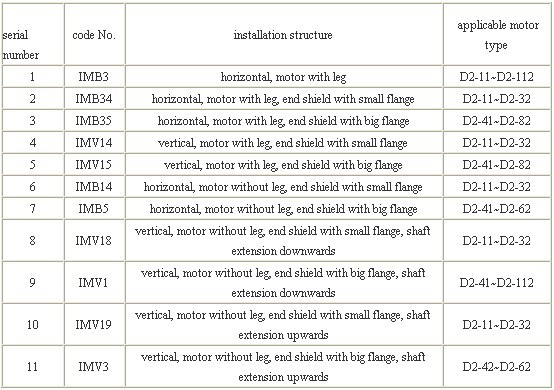 D2 series motors, basic structure is self ventilations & drop-preventing,
it can prevent drop、slag or other things from falling into the motor from uprightness 45°
1.Stator: composed of frame、magnetic pole and magnetic loop. The stator
frame is made of steel or casting steel, it is outer spigot to enlarge the
diameter of the fan in order to improve the ventilation. Motor frame 1~3 have
two main poles and one interpole, motor frame 4~11 have 4 main poles and 4 interpoles.
2.End shield: made of cast iron. Its structure is considered of easy use and
maintenance, improving the ventilation. It derived into sealed, out blow pipeline
aeration etc.
3.Armature: composed of shaft, magnetic core, coil, fan, commutator etc. Shaft
is made of high quality carbon structure. Fan can be made of cast aluminum or
armor plate according to its Diam. Motor frame 1~6's commutator is made of plastic pressing,
7~11 made of traditional disport V style steel structure.
4. Brand of bearing reference to table 2
table 2