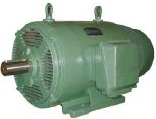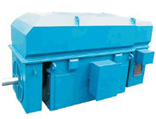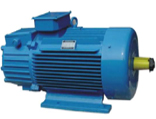 AR series (low voltage) ARKK series (hight voltage) AZR series (for crane)
Download(catalogue) Download(catalogue) Download(catalogue)

---
AR SERIES SLIP RING MOTOR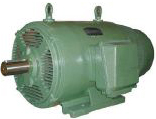 General Description
AR series(IP55) motor is closed wound rotor three-phase aSynchronous motor, is the new generation product with updatest design in China. The power class and mounting size of this series motor is applied to the international standard IEC72. The motor can gain good start performance (When smaller start current, bigger start torque) and small range speed control through rotor loop external connection to resistance. It's widely used when required bigger start torque than squirrel-cage rotor motor; or when electric fence capacity not enough to start squirrel-cage rotor motor, frequent start, start time longer or connected electrical shaft as synchronous transmission. For example, metal cutting machine, crusher, globe mill, compressor, sugar mill, windlass, drive belt and other required heavy-load start and short-time overload mechanical equipments. The motor has advantages as high efficiency, overload capacity, low noise, small vibration, reliable structure,
beautiful shape and so on, especially fit for separate or assorted exportation, or assorted with import equipment, has become our main export product.

Electric Specification
􀀔 􀀌1) Rated voltage 380V, rated frequency 50HZ. Can be made into 415V,420V,440V,660V and 60HZ according to customers'
requirements.
􀀕 􀀌2) Stator is connection(3KW is Y connection), rotor is Y connection.
􀀖 􀀌3)􀀑Motor apply F Class insulation (winding exotherm examined by B Class); cooling method as IC411; Keep-on working system(S1).
􀀗 􀀌4)􀀑Motor shelled protection class as IP54. Among,H400~450 collecting ring protection class IP23.Stator and rotor has its separate top offtrack junction box􀋈making motor's connection safer, more reliable and convenient. If need to make with other offtrack pls advise when order.
---
ARKK SERIES HIGH-VOLTAGE WOUND-ROTOR THREE-PHASE INDUCTION MOTRS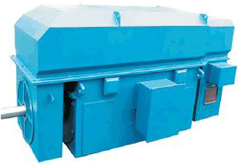 GERENAL DESCRIPTION
Series ARKK High-Voltage Wound-rotor Three-phase Induction Motors (frame size 355~630) are the newest products,
being of the 1990' s advanced technique levels, developed and famufctured by our company.
These series motors can be used to drive various commonly used machines, such as compressors, water pumps,
crushers, cutting lathes, conveyors, air-blowers, coal-grinders, rolling mills, and belt conveyers etc.
With the material chosen exquisitely and the products excellent workmanship, these series motors are engineered with
many remakble features, such as high torque index, low noise, small vibration, high reliability, easy operation, mounting and maintenance etc. For these series motor, the output rating, mounting dimensi ons and electric properties conform to China Industry Standard JB/T7594 Series AR High-Voltage Wound-Rotor Three-Phase Induction Motors Specfications, and specifications specified in other relative standards and IEC Standard 72— 2. For these series motors, the cooling rorm is IC01, IC81W and IC611 according to China National Standard GB1993 and IEC Standard 34— 6 Cooling Form of Motors, and the mouting arrangement is horizental foot-mounted (IMB3), conforming to GB997 and IEC34— 7 Code of Motor Construction and Mounting Arrangement. For the other requirements, consult with our company further.

CONSTRUCTIONAL FEATURES
These series motors adopt international fashionable box construction. Frames are welded with sheet steel, being of the
merits of lightweight and well rigidity. Both stator and rotor wingdings are Class F insulation. On the ends of them, the fixing and binding measures are supplied reliably. They are steated with vacuum-pressure impregnate solvenless varnish processe (VPI). These processes enable the motors to possess excellent insulation property, high mechanical strength, and high moisture-resistant ability. In accordance with the motor output and speed, two kinds of bearings can be equipped, one is rolling bearings and the other is friction bearings. The protection degree is IP23 and IP44 for the basic types and IP54 for the terminal boxes. The terminal box is generally located on the right side of the motors (viewing from DE).For the basic designed type motors, the collecting electric rings are generally located at the outside of the bearings with the protection degree IP23.For other protection degree or the collecting electric rings locating at the inside of the bearings, please state specially when ordering.

---
AZR series ( for crane )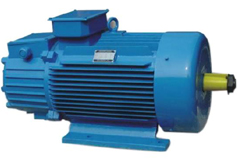 General

1.1 AZR3 are based on AZ2 series of motorsÿresponse to national industry policy of substitute hot roll by cold rollÿpopularizing and adopting renewal of cold roll silicon steel plateÿimproved appearance design, shaping is beautiful and novelty, improved the inner qualityÿ reliability and service life of motors, saved effective material, improved the degree of protection, decreased the noise, provided great social benefit.

1.2 The rated outputs and the mounting dimensions of the motors are in accordance recommendation of IEC72 standard.
Correspond relation of the rated outputs to the mour dimensions are same to and exchangeable with those of Japan standard JEM1202 and SIEMENS series motor of 1LT8 and 1LT9 ( shaft heigh < 315).
1.3 Among the products of the same kind, overall lever of this series of motor have reached advanced world standardit is the new generation of products of energy-saving and environment protection.
1.4 AZR3 series of motors are suitable for used for driving varieties of crace machineries and other similar equipments.

Guide for lectotype

The items mentioned here in , aiming to remind users t what should pay attention to.